by Les May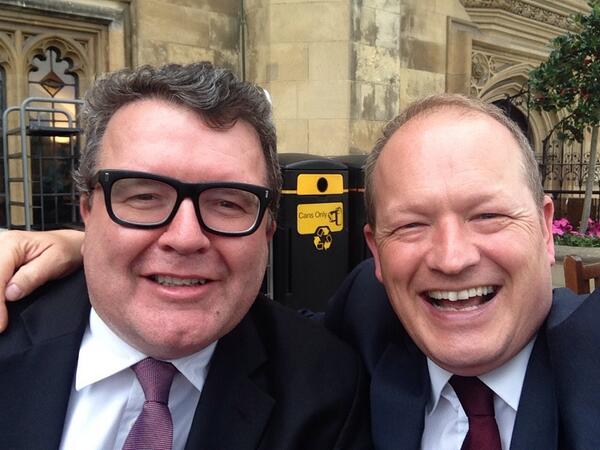 Tom Watson & Simon Danczuk
YOU'VE
got to admire Simon Danczuk's nifty footwork in making sure that the opprobrium which is being heaped upon Tom Watson for his pursuit of Leon Brittan does not fall upon him.
Chris Fay, a former social worker, interviewed in the recent
Panorama
programme also passed allegations about Leon Brittan to Tom Watson. But Simon wanted to make it clear that he was above that sort of thing and was reported in
The Times
a couple of days ago as saying Fay was
'wholly unbelievable and some sort of fantasist'
.
Now I wonder when he came to that conclusion? Quite recently I assume because earlier this year he was happy to share a speakers' platform with him as you'll see if you visit the eventbrite website. (Mr. Matthew Baker now living in Bristol and a former aide to the Rochdale MP, Simon Danczuk, has since denied that Mr Danczuk appeared on the same platform as Mr. Fay - see his comment below).
Or did Simon
'forget'
just as he did when he enthusiastically applauded the unveiling of a
'Blue Plaque'
to Cyril Smith.
http://www.thetimes.co.uk/tto/news/uk/article4583057.ece
https://www.eventbrite.co.uk/e/csa-inquiry-time-4-justice-action-meeting-tickets-14973173164
https://www.youtube.com/watch?v=L5iL2dDSyl0