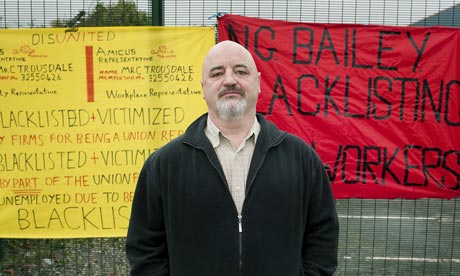 Activist Committee member condemns blacklist collaborators
A Unite Executive Council Report dated 30th Nov - 2nd December 2010 includes a minute entitled:
Blacklisting Investigation (Unite Officers):
"Assistant General Secretary Paul Talbot, Head of Legal, reported that of the 5 (Unite) officers so far identified, only one is worthy of further investigation. Joint General Secretary Tony Woodley asked Paul Talbot to carry out further investigation.
"It was reported that Jim Simms of Beaver Management Services Limited (BMSL) had made statements that union officers were complicit in the Blacklisting of members, one at a public meeting during the TUC (Conference) week and another under oath at a Tribunal. Joint General Secretary Derek Simpson said the Legal Department would write to Mr Simms asking him to substantiate these remarks or refrain from making them in future."
Mr Simms is not the first employer to raise concerns about the role of former Amicus union officials in the use of the blacklist in the British construction industry;
Alan Wainwright
, in 2004 a Regional Production & Resources manager for Haden Young a subsidiary of Balfour Beatty PLC, began a whistle blowing campaign against blacklisting in the construction industry. In a letter in 2006, he expressed doubts about an Amicus official in the Midlands and he wrote to Derek Simpson, then the General Secretary of Amicus:
'I cannot believe that after over nine months now being in possession of the blacklisting information, that this union is not asking Balfour Kilpatrick why the lists (blacklists?) of names were forwarded .... and .... circulated ....'
On the 6th, July 2006, Mr Wainwright in a letter to Derek Simpson wrote:
'I therefore do hope that you will now take this opportunity to take a more proactive approach to establishing the true facts from your staff and more importantly, take action to ensure the matter is fully investigated and eradicated from the industry for good.'
It seems that despite Mr Wainwright's best efforts that we are still awaiting the Utopian dream of a blacklist-free construction industry and if Derek Simpson has his way the union renegades who helped enforce the blacklist will get off scot-free.
---
Speaking in a personal capacity, blacklisted worker
Colin Trousdale
, a member of the Unite Manchester Area Activist Committee said
'It appears to me that these officers will go unpunished if it is left up to the hierarchy of the union both past and present! We must continue with our endeavours to unmask these wretches and make them face the wrath of their victims if nothing else. I have seen three comrades go to the grave without the chance of clearing their name or at least having the knowledge of who in our union betrayed them, I will not go to mine without justice for them and myself.'