by Brian Bamford
THE COMIC OPERA
continuing between the Danczuk Clan, Karen and Simon, and the Rochdale Labour party, ruled by Councillors Richard Farnell and Allen Brett, is becoming more entertaining by the day.
It was only two months ago that the Labour Party Council leader, Richard Farnell and Simon Danczuk, were cheerfully posing together with a snapshot of a birthday cake celebrating '50 years of the Samaritans' in Rochdale and district. Yet now with Danczuk standing against the official Labour candidate all those happy times seem to have been forgotten, as on the 8th, May after Simon's resignation letter in which he declared:
'The Labour Party is no longer the positive political movement that I joined nearly 30 years ago. Indeed, under its current leadership the Labour Party is more interested in serving its own ends rather than those of hard working people for whom the party was originally established.'


Only this week, Mr. Danczuk's former agent, Councillor Allen Brett has complained about the knock-about way Danczuk is conducting campaign against the chosen Labour candidate, and former pal of Danczuk, Tony Lloyd.
Earlier this week, according to
ROCHDALE ONLINE
, Mr. Brett claimed:
'The Danczuks have been engaged in a particularly "nasty and vindictive" campaign against Tony Lloyd since Mr Lloyd was chosen as the Labour Party candidate, much to the chagrin of Danczuk who coveted the Labour candidacy himself. '

Councillor Brett added:
'The public are getting fed up with the Danczuk's forever dragging Rochdale through the mud. The sooner we're rid of them the better.'
Unfortunately, the Rochdale Labour Party under the leadership of Mr. Farnell and Mr. Brett have had plenty of warning over the years about the wayward nature of Simon Danczuk, not to mention his former wife and mucker Karen, who always seemed away with the fairies.
But they wouldn't listen to anyone about Simon's unreliability, even their rank and file members in the Rochdale Labour Party.
Meanwhile, Simon has recently been blessed by the support of none other than the former detective constable in Greater Manchester Police (GMP) Margaret Oliver. Oliver worked on sex abuse investigations in 2004 and 2010, and she worked on a small team assigned to Operation Augusta.
It was looking at allegations about the grooming of white girls in the northwest of England by Pakistani men in 2004.
In a tweet, which the Danczuks have now re-tweeted, see below:
Important message from Maggie Oliver, former Greater Manchester Police detective, regarding the Election in #Rochdale #threegirls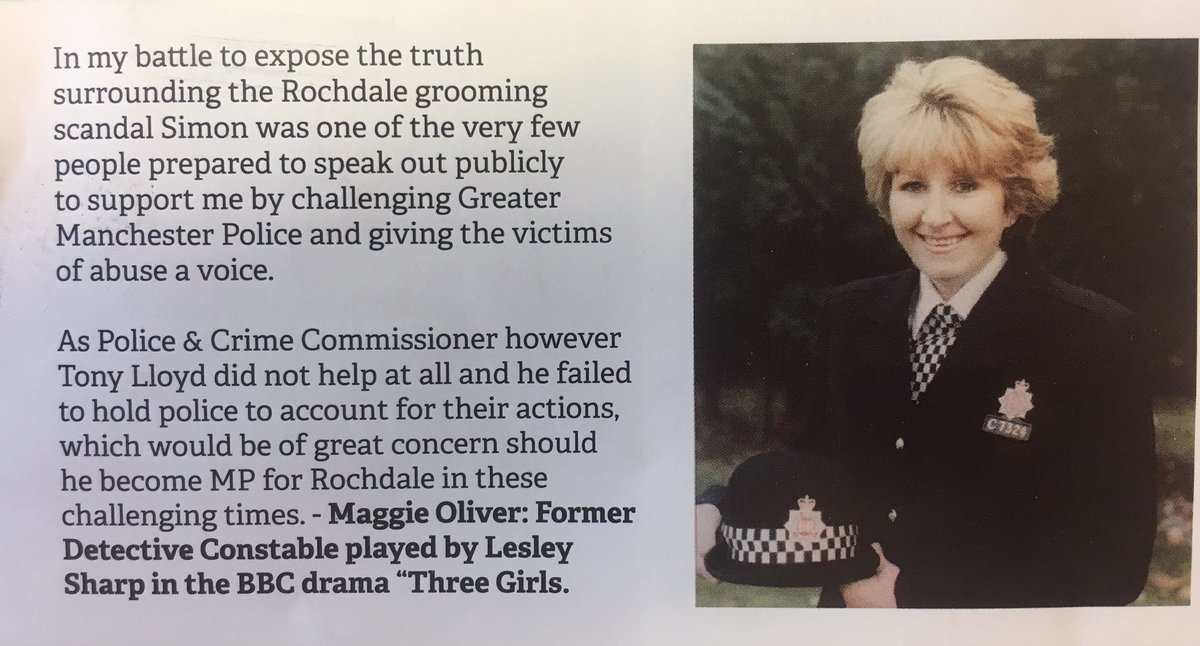 Tony Lloyd, as I recall, didn't feature in the BBC drama 'Three Girls', but wasn't it the Crown Prosecution Service (the CPS) rather than the Greater Manchester Police, who failed to process the case in 2009?